Used Books, Antique Books | Secondhand Bookshop
More to read –

easily and quickly
Finlandia Kirja's wide variety web shop and friendly customer service will help you find what you are looking for as easily as possible.
You always know what you get – quickly in one well packed delivery
Affordable reading or rarities - a purchase from us is always a sustainable decision.
Sail with ease in our vast sea of fact and fiction.
Be infatuated with our thoroughly examined and photographed tomes.
Take it easy –
time flies when you're flitting through our store
A new reading experience is waiting by the door faster than you think!
The most discounted
discoveries
Finlandia Kirja is an online used bookstore and second-hand bookshop
Finlandia Kirja is a Finnish bookstore that is also the largest antiquarian bookstore in the Nordic Countries and the biggest online shop in the world for Finnish literature. You can easily find rare books and collectibles in our online shop pages - and order them to your home quickly and easily.
Finlandia Kirja enables finding the second-hand books you're after without having to visit countless used bookshops, or paying through the nose in shipping fees many times over to several different online used bookstores.
You can order old books from the Finlandia Kirja online shop effortlessly and affordably. Our precise book storage system and focusing on online sales alone guarantee that we can send you the reading items you order - be it one or several books, a series of books, a magazine, or a comic book.
We also provide true collector's items to include in your home library arriving reliably and carefully packaged. As a general antiquarian bookshop, Finlandia Kirja offers the largest selection of Finnish language books on the Internet covering a wide range of subject areas.
Our customer service is happy to assist you in all matters related to product information, ordering issues, or anything else, both via email and over the phone - please contact us!
How does the Finlandia Kirja used bookshop work?
If you're looking for a particular book or for works by a specific author, you can do this directly by using the search field at the top of the online shop page. If your interests lie in a certain topic, or for example in fiction of a particular genre, you can browse our products by theme and learn more about the books' properties with the help of our extensive and meticulous product descriptions and condition rating system.
Once you locate the volumes you want, you can order them with just a few clicks.
Our payment methods cover all the most common types from credit card payments to Bitcoin and PayPal.
We mail our orders daily, so it won't take long for you to start enjoying the new acquisitions. The Finlandia Kirja online shop works equally well as the mobile version, so you can order your books wherever you are using your phone or tablet.
We hope that you'll be satisfied enough with our online shop to recommend us to all your friends too.
Our online bookstore offers a wide selection of reading matter -
both new and used books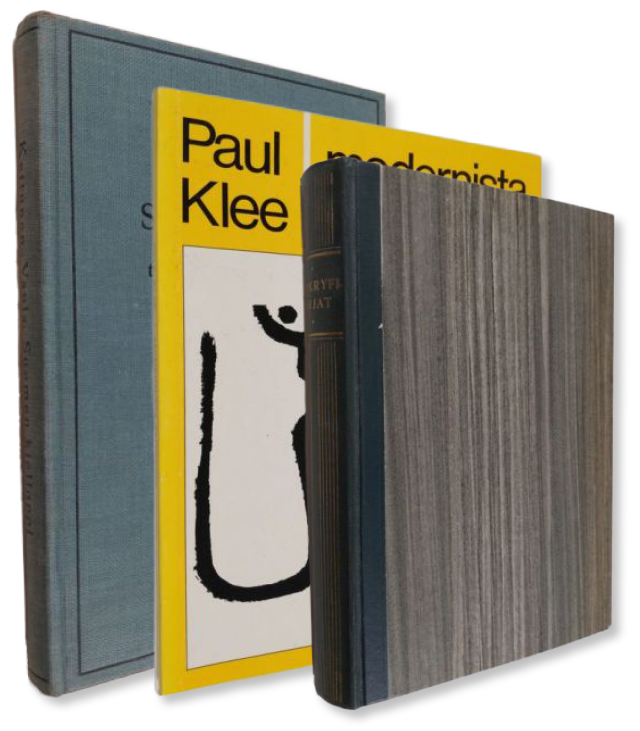 Non-fiction – facts from the past till the present
Finlandia Kirja is an online shop for second-hand books, our shelves bursting with pieces of literature published over past decades and centuries, and covering a wide array of topics from a host of categories. We have a huge assortment of, among others, history and military history, the sciences, the law, business, and literature pertaining to hobbies. As we are an antiquarian bookshop, our trade - compared to a more traditional bookshop - offers a more varied and exciting expedition into literature published from diverse subject areas. Older books contain a lot of information that may well be missing completely from newer publications. In case you're looking for a tome but don't know its exact name, you can also search by keyword alone - and the online shop will display you an array of relevant literature.
Fiction – countless stories from Hemingway to Tolkien
Our antiquarian shop holds an immense amount of novels, autobiographies, poetry, and old- established collector's items by topic. Nothing takes your mind off the hectic daily routine like a good story. As antiquarian Matti Pietilä from Finlandia Kirja once put it: "People should be able to recharge their batteries after all the light and noise pollution that we're bombarded with these days, and get away from the mobile phones, tablets, laptops, and also e-readers - all of which must be charged after use - so pick up a good old-fashioned book and you will be transported to another world right away, replenishing your own power banks as well!". Finlandia Kirja is sure to cater to every taste, as our general offering enables us to serve our every reading customer regardless of their preference. Whether it's classic novels or romantic books your heart desires, thrillers or fantasy – we've got it all!
Books for children and the young
Finlandia Kirja also provides for children and young people with fun and exciting reading. Trending among young readers, fantasy and science fiction literature is something our second- hand shop offers by the boatload – more than any other bookshop in Finland. The majority of them are in top condition, even mint, and it's easy to find brilliant gift ideas among them. In our selection, treasures can also be found; those fairy-tale classics and timeless tales you remember from your childhood but no longer possess or ones that may have fallen apart.
Comics
We have thousands and thousands of comics in our used items shop too. Our main focus is on comic book albums in good condition, but we also offer loads of Donald Duck paperbacks, manga, and western comics.