We buy used books collected from home everywhere in Finland
Do you have books or LPs for which you would like to find a new home? We buy home libraries of different sizes; books that are redundant, excess books due to lack of space, books from estates, etc. We also buy books from companies and associations. Your books can be located anywhere in Finland (apart from Åland) – we will organise a collection for them straight from your home. You can pack your books ready in your own cardboard boxes or in the case of a larger batch of books, you can ask us to deliver the required number of boxes straight to your home. In some cases, the boxes of books can (and should) be packed on a pallet in which case we can deliver the pallet in advance if needed. Our partner in book collections is DB Schenker. If for some particular reason the collection cannot be organised, and the batch of books in question is larger, we might be able to organise packing and collecting the books by our own staff (between Helsinki metropolitan area and Päijät-Häme). If you would like to, you may also deliver books to our warehouse in Orimattila (Suksitie 10, opening hours: 8-14, see driving instructions).
What do we buy, what can be brought to us and what happens to the books
As an all-round antiquarian bookshop, we are interested in fiction as well as non-fiction literature, comic books from different fields and good quality LP record collections. The most requested subjects are crafts, fishing, hunting and camping, war history, history and local history, folklore, seafaring, aviation, Lapland and Karelia, natural sciences, science fiction, fantasy, and horror litherature, vehicles, professional literature of the 2000s and different kinds of hobby literature. You can also offer us LP records.
The following books are unfortunately not interesting to us (although we may be able to take them alongside other books).
Broken or water damaged books, or books that smell like mold/cigarettes (usually books that have been stored outside/in the cold have been damaged permanently)
Books from book clubs or Reader's Digest
General Encyclopaedias
Second-hand library books (in the case of larger library batches, you should contact us to discuss the matter)
Non-Finnish fiction (excluding high quality fantasy/sci-fi/horror literature) – non-fiction is fine
Note! Due to coronavirus, our outlet only has a place to leave books for the time being! Books cannot be received personally or estimated upon arrival. The collections from home are functioning as usual.
While we are not able to pay compensation in money for all the literature, all kinds of literature and magazines can be delivered to us as long as there is no mold damage. If you bring books to our outlet, we hope that they are in transport boxes that can be left with us – this makes transactions faster. All the literature that is brought to us is sorted so that usable books and magazines that are unsuitable for selling are given away, free of charge, at our yearly charity event, Free Book Day. The event is organised just before Christmas and is open for anybody to attend but at the same time it is a good opportunity for lower income families to acquire Christmas presents. The event is organised in partnership with Orimattila Activity Centre Laukkalinna that organises rehabilitative work activities and work and day-time activities for people with special needs. This way those that are taking part in rehabilitative work activities gain meaningful experience from different kinds of work tasks like sorting and displaying the books as well as coffee service for participants. Even the books in the poorest of conditions do not go to waste at Finlandia Kirja, they are recycled and made into environmentally friendly wool insulation.
How to ask for an offer
The easiest and most practical way to ask for an offer is to take a few photos of the books and send them to us to at hankinta(at)finlandiakirja.fi. Taking pictures of only the spines of the books is enough and it is good to take photos of the books directly in the bookcase in larger batches. You can take photos of the spines of the books one or a couple shelves at a time as shown in the example below. The name of the book should be legible.
You can also send video footage of the shelves if you would like to. In this case, it is important to stop for a moment when moving from one shelf to the next, so the camera focuses enough to make the spine texts legible.
If it is not possible to send pictures through email, they can also be sent as a picture message or through WhatsApp to the number 050 349 6266 (picture messaging lowers the quality of the pictures so we recommend email). If this is not possible either, you can send a list of the books or discuss about the contents of the batch of books over the phone.

Collection of the books
Once the collection of the books has been agreed on, we will order a collector from DB Schenker who will pick up the boxes of books straight from your home at the agreed time. We will also send you the required dispatch notes to your email to print or dispatch stickers by mail. The books should be packed ready in cardboard boxes (see packing instructions below). For larger batches of books, we can, case-by-case, deliver transport boxes straight to your doorstep if requested.
In some cases, book collection can require an assessment visit to your house. We will strive to make a deal on the books, pay by cash (also wire transfer if required) as well as carry and move them away at the same time. Books do not need to be sorted nor do you need to reserve any transport boxes etc., because we will take care of the required transfer. Usually, it is mutually better to make the deal in advance and order the collection through Schenker to keep the costs of the transport itself considerably lower. For the largest and most valuable book collections it may be more sensible to evaluate the batch on site (mainly for books coming from Helsinki, Espoo, Vantaa, or between Helsinki-Lahti).
The value of old/used books
The purchasing price of an old book is mostly affected by the supply and demand situation, condition (cover, bind, pages, dust jackets), having the dust jackets as well as binding form and edition. The newer books should be in very good condition and the dust jackets should be mostly there for the book to have resale value. The book's age does not directly tell its value but older works are naturally allowed to have changes brought on by time and also signs of wear and tear. We cannot purchase all batches of books, but you should always ask. In some cases we are able to organise collection for the books even though we are not able to give monetary compensation.
We mainly offer for the whole batch of books without picking the cherries from the cake. Recycling and social responsibility are a strong part of our values, so we aim to find a new home for as many of the books as possible. Duplicate copies in good condition that are unnecessary for us are given away at our yearly charity event, Free Book Day, just before Christmas (in 2007 we gave away approximately 8000 books to 1000 participants). The books are also donated directly to different associations and health care institutions mainly for charity purposes. We do not take any literature to the landfill; all books are relocated as sensibly as possible. Even the books in the poorest condition are reused as insulation material in the production of eco-friendly wool insulation.
Books of estates and trustees
We also purchase books from estates and trustees but inform us separately if the batch of books is like this. In the case of an estate, we require a copy of the list of the estate's shareholders (social security numbers can be covered) as well as power of attorney from the other possible shareholders for the sale of the estate's movables/batch of books. We can organise collection of the estate's worthless books as well, if required.
Instructions for packing the boxes of books
Try to use transport boxes for bananas that are available at grocery stores or sturdy, stackable boxes of similar size that have holes to carry them from (for example the smallest green cardboard boxes of Pelican Self Storage).
Pack the box full but do not go over the edges of the box (the books can get damaged easily during transportation and storage in overpacked boxes)
You can pack books on their back or on their side but do not pack any more books on top of books that are on their side (the covers and spines can bend)
Do not pack books separately into the lid of the box, just put the lid in its place (below picture 2)
If the collection of the books is from an apartment building, please check if the books can be left in the entrance area of the building for pick-up. This makes the cost of collection significantly lower.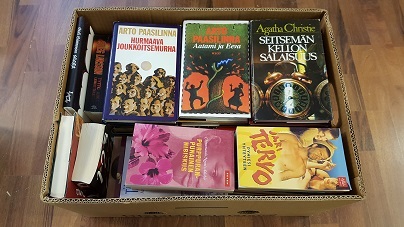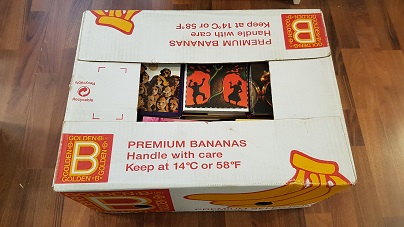 Contact us!
Marcus Jääskeläinen
Purchasing manager
Phone: 050 349 6266 (working days from 8-15). If we cannot answer the phone, we will call you back!
Email: hankinta(at)finlandiakirja.fi